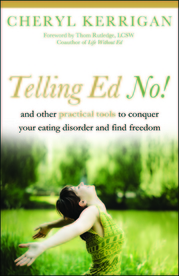 With more than 100 practical tools to help you conquer your eating disorder and find freedom, Telling Ed No! is a unique, accessible survivor's guide.
Using inspiring real-life stories, Cheryl presents over 100 practical recovery tools as well as exercises and questions designed to encourage journaling and discussion that will help you navigate your path to recovery.
Full of raw emotion, tough decisions, fears, and triumphs, Telling Ed No! will help you learn to incorporate food, laughter, and love back into your daily life one step at a time.
Order Telling Ed No! from your favorite retailer!